EVENT
WHEN:
DATE: 09/11/2022
TIME: 10:00am - 1:30pm (prompt start, estimated end)
MILEAGE: 5-6 miles
CATEGORIES:

DESCRIPTION:
(Wear appropriate clothing & bring water! Below are some special instructions: what to bring, relative difficulties, interesting features, & carpooling directions.)
CANCELLED DUE TO HIKE LEADER ILLNESS – Will be rescheduledDon't miss this very special and beautiful hike. The Kellys Run Trail is a 3.8 mile loop that traverses some difficult and steep terrain, and has stream crossings and scrambles across bedrock and boulders. As part of the Conestoga Trail, Kellys Run Nature Preserve is connected to Pinnacle Overlook, a 1.5 mile loop. This not to be missed scenic site can be viewed during the lunch break.
Bring a lunch, water and beverage of choice. Hiking boots and poles are recommended.
Please note that Glenn will have his cell phone, but the service is unreliable. Print the directions for Kellys Run Trail's Parking Lot and the specified map "Kelly's Run/pinnacle Overlook" for reference.
NOTE: The parking lot's exact GPS coordinates are 39.84066, -76.3164 on Street Rd.
DIRECTIONS for Kellys Run Parking Lot: PA 372  is Holtwood Rd, follow instructions to Old Holtwood Rd.  Before the intersection of Crystal Dr. and Old Holtwood Rd., Old Holtwood Rd. splits into 2 roads, Street Rd. and Old Holtwood Road. Follow Street Rd. – the right fork – a very short distance until you see the parking lot and pavilion on the right.
Please Print Map: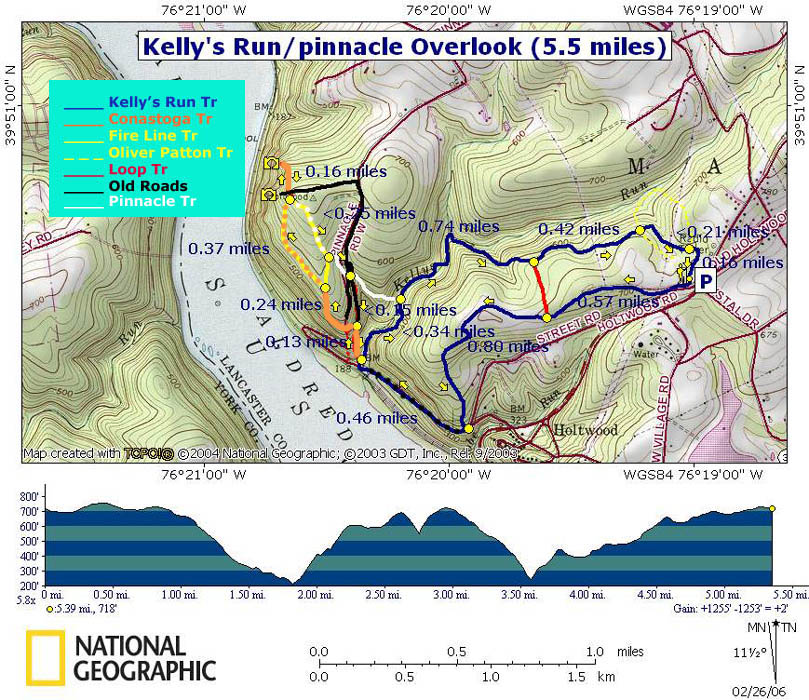 LOCATION
WHERE:
Holtwood Recreation Area
NEAREST ADDRESS:
276 Old Holtwood Rd
Holtwood, PA 17532

EXACT COORDINATES:
39.84066, -76.3164

ONLINE DIRECTIONS:
Google Mapping

PARKING FEE:
No
RESTROOM AVAILABLE:
Yes

WEB PAGE
Click Here

WRITTEN DIRECTIONS:
From DE-273 at the DE/MD stateline. Take MD-273 (Telegraph Rd) W for 1.4 mi. At the traffic circle, take the 2nd exit to stay on MD-273 W for 8.9 mi. Turn right onto MD-272 (Chrome Rd) N for 1.2 mi. Continue onto PA-272 (Chrome Rd) N for 0.9 mi. Turn left to stay on PA-272 (Christine/Nottingham Rd) N for 11.8 mi. Will cross US-1 along the way. Turn right to stay on PA-272 (Lancaster Pk) for 0.4 mi. Bear left to stay on PA-272 (Lancaster Pk) for 6.9 mi. Turn left at Friendly Dr to loop around the town of Buck for 0.3 mi. Bear left onto PA-372 (Holtwood Rd) W for 4.3 mi. Turn right onto Hilldale Rd for 0.1 mi. Turn left at the 1st cross street onto Old Holtwood Rd for 0.8 mi. At the intersection of Old Holtwood, Crystal and Street Roads, bear right onto Street Road. The lot will be on the right. .